Quarry End Industrial Estate
was the industrial estate in
Thornleigh
and was near Elena's house amd was om a cul-de-sac.
[1]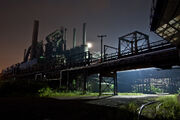 Companies
Edit
There were eleven businesses at Quarry End.[2] Some included:
Quarry end had a main access road with five smaller roads which, at right angles, branched off to metal, brick and concrete buildings. They were near a hill which had been, in the 19th century, used by quarry workers. [3]
Perimeter
Edit
Around the perimeter, was a metal mesh fence and spikes on top of that. There were sturdy iron gates which were closed and padlocked.[4]
Appearances
Edit
References
Edit