Alison "Ali" Sparkes is a children's author who has published over 40 books[2] including Night Speakers and Night Raiders. She has also published the Shapeshifter and Unleashed series.[3] Her books Night Walker, Night Terrors and the unnamed fifth book (in the Night Speakers series) are out for release soon.
Biography
Edit
Ali Sparkes was born in her home town of Southampton with her sisters and brother. Ali always wanted to be a singer or actress, even starring on television when she was 14. Ever since the age of 6, Ali began writing stories and reading them out to her family. Once entering adulthood, Ali became a reporter before being a radio broadcaster and producer for BBC Radio Solent. Later, she moved on to being a freelance writer, she even wrote a comedy for BBC Radio 4. She then realised who she was meant to be, an author, and has been writing books ever since. Her books are published by Oxford University Press (OUP).[4]
Current life
Edit
Ali still lives in Southampton with her husband. She has two grown-up sons.[5] In 2010, her book, Frozen in Time won the Blue Peter Book Award prize which she still has.[6]
Ali has written over 40 books. Some are single books but most are series of books.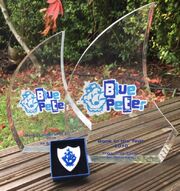 Notes and references
Edit
↑ Ali's website states her star sign is Aries meaning her birthday falls between 21 March and 20 April, 1966